Loading
Some history is helpful. DHHS was created by merging two already bulging departments – Health and Human Services. Health has always been dominated by the insatiable demand for new hospitals. The downgrading of public health within that empire was inevitable. For a Health Minister, launching a brochure is not nearly as exciting as cutting a ribbon to open a new ward.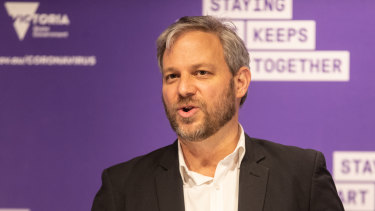 It was Dan Andrews – a former Health Minister – who thought the merger a great idea. He was wrong. Now they are being split. He was Dr Frankenstein to that monster.
The Chief Health Officer Brett Sutton was sidelined. With a reputation as a "scaredy cat" his judgment was doubted. That he was publicly paraded as the lead expert while being undermined internally is an ugly example of how politics really works.
Cast your mind back to the start of the pandemic. The main concern was that Emergency Departments would be overrun. Special COVID wards were "fast-tracked" and there were contingencies for a field hospital at the Convention Centre.
A secondary concern was the shortage of masks and protective equipment, so supplies were rationed. The next level of anxiety was about nursing homes, schools and construction sites.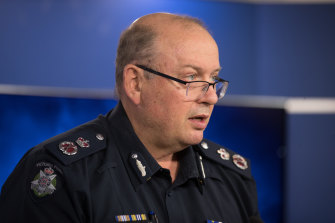 Loading
Hotel quarantine was only ever a sideshow and thought to be easily managed. Former Police Commissioner Graham Ashton declared that police were not to be used in enforcing quarantine, but his inexplicable memory failures leave us speculating about who else he consulted – was it the Police Association, the Premier's personal staff or other insiders who managed to avoid scrutiny under oath?
Any inquiry is inconveniently hampered by needing to rely on actual evidence. Speculation and the fevered imagination of journalists does not suffice. The Premier's daily media grilling – particularly by the openly hostile Murdoch staff out to claim a scalp – became a Melbourne ritual through lockdown. Whilst many applaud his grit and calm under siege, that does not absolve Andrews. His fate now rests on avoiding a third wave and rebuilding the economy.
And the Liberals? Michael O'Brien is being openly undermined by several of his front bench. They barely conceal their disdain for his leadership and seize any opportunity to steal the spotlight. The guy in charge of a massive governance fail is under less pressure than the guy who was not in charge – go figure!
The Liberal Party is deeply divided and consumed by their internal problems. Their ineffectual frontbenchers are either remarkably lazy or constantly distracted.
The Andrews government is incredibly vulnerable. The economy has taken a massive hit and the trade war unleashed by the Chinese to punish Australia has barely started. The "Belt and Road" deal looks more anachronistic every day and if there are still benefits for Victoria then someone better do a very good job of pointing them out.
The 'Lawyer X' debacle sees the justice system looking like a shambles every time another underworld figure pleads "Gobbo" in front of the Court of Appeal. It will take many more millions to sort out.
The infrastructure program we now rely upon for job creation presents capacity constraints and cost overruns. The construction companies are no more benevolent than ever and sense an opportunity to screw a desperate government for better returns.
Bushfire season looms. The transition to new energy is not going to be easy. Major sporting events are wobbling because of COVID. The Treaty process is weakened by the dispute over a highway out west. Challenges galore.
Merry Christmas Victoria. Enjoy the holidays.
Jon Faine is a former presenter on ABC Radio Melbourne.
Jon Faine is a former presenter on ABC 774.