De Belin will enter his third season on the sidelines in 2021 after a jury was last month unable to reach a verdict in his sexual assault trial. The further extension of de Belin's stand-down until a new trial in April prompted criticism and debate about the fairness of the NRL's policy.
But Abdo is hoping the NRL' will have a "win" in the arbitration hearing with the RLPA on Thursday and it will see the end of the debate.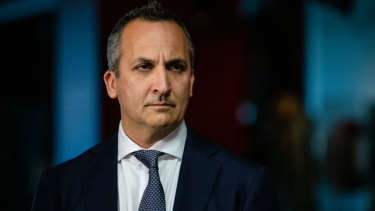 "It's not going anywhere," Abdo said. "Despite the fact that we're in arbitration with the RLPA, we're very, very confident that we will win the arbitration and it will be upheld, and we won't have to talk about it any more."
Abdo also said he is hopeful discussion about the policy will become obsolete in the future as young players become better educated over the "responsibility" they have as NRL figures.
The chief executive addressed 87 up-and-coming players during this year's NRL rookie camp, which was held online on Friday.
"It's [the policy] there for, hopefully, very rare occasions," Abdo told the Herald. "We would love to not have this debate because the rule is never invoked"
The stand-down policy is only automatically applied when a player faces a charge that carries a potential custodial sentence of 11 years or higher. It can also be applied via the discretion of the NRL chief executive.
"We won't prejudge innocence or guilt, but don't put yourself in a position when you're faced with those charges," Abdo said. "Ideally, we're not talking about it, because players haven't put themselves in a position."
Despite de Belin's case being re-tried due to a jury being unable to reach a verdict, the NRL has indicated it won't be adapting the policy in the future. The decision has been met with a raft of criticism from stakeholders of the game, including sponsors.
Loading
Leading Dragons sponsor Norm Black, the owner of TripADeal who pours about $500,000 a year into the club, labelled the policy flawed "beyond words." The Dragons have paid de Belin more than $1 million just to train for the past two years.
"It creates a feeling of guilt," Black said. "It's a one-size-fits-all rule and I think that's wrong."
De Belin's case highlighted the shortcomings of the rule, according to Black.
Lawyer David Campbell SC argued the NRL should look at applying some leniency on a case-by-case basis.
"That's a vice of the rule, isn't it?" Campbell SC said. "The absence of some discretionary element in the rule is highlighted by this case because somebody could be held out for five years.
"There needs to be some discretionary amelioration with the harshness of the rule."
Sarah is a journalist for The Sydney Morning Herald.