Normally he never does, but with the amount he was sweating from nerves, Sangha thought it might affect his bowling.
Looking back on his debut game, Sangha revealed why he believes his humble south-western Sydney public school provided the foundation for so many of Australia's sporting greats, despite not being a sporting high school.
"A lot of people told me to go to a sports school, but I never really got into it," he said.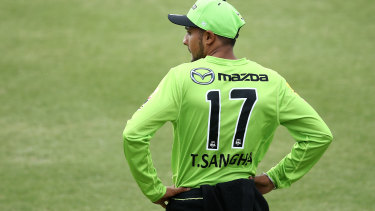 "I had friends in the pathways that went to a sports school they had training after school, training before school and during school.
"I didn't see that are more beneficial…for me, it wasn't cricket cricket cricket all the time."
Sangha signed his first BBL contract with the Thunder at just 17 before he was headed to South Africa with the Australian squad selected for the Under 19 World Cup. There, he proved himself as one of the nation's exciting young prospects, becoming Australia's leading wicket-taker during the Cup.
"None of my family plays cricket at all, no one is really into it, I just started playing cricket as my parents wanted me to play another sport when I was young," he said, having played volleyball and soccer throughout his childhood.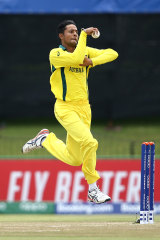 "So I 100 per cent loved going to a normal public school…I could just chill out and then then I could focus on cricket…I feel like I had a good balance."
Also in Sangha's year was Jackson Topine, who was the under 18s NSW Captain and Schoolboys captain this year.
The school's alumni list also boasts Manly Sea Eagles group executive Lyall Gorman and staff alumni swimming coach Tracey Menzies.
Principal Paul Abboud said Liam Hatcher, who is a bowler from the Melbourne Stars was also from the school.
"Historically we've always had excellent Davidson Shield sides and that's to do with the enthusiasm of the staff that we have here to coach the teams," he said. "Bankstown grade cricket is also very close to our school…it's definitely a symbiotic relationship between us and them and it's bred success."
"A lot of kids these days have a pressure on them so when they are here we have them in cotton wool a little bit to protect them."
The Sydney Thunder face up again the Perth Scorchers at Manuka Oval in Canberra on Tuesday night.
"I just want to learn and experience everything this season as not everyone is able to do such a thing especially at a young age," Sangha said.
Sarah is a journalist for The Sydney Morning Herald.