As a lover of subcontinental cricket and a man who had one of the lightest pair of feet in cricket, Jones would no doubt have been even more excitable than usual over the fact that the MCG pitch was turning from the first hour. Certainly it excited Ashwin, who continued his graph of sharp improvement on Australian soil. The spinner has turned the past sharply around. Here, he was probably liberated by the fact that Virat Kohli is not around to put him on notice whenever he bowls a bad spell.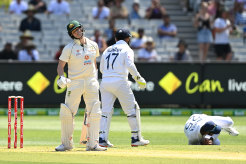 Anxiety levels about Australia's top order continued to rise. Whether pondering this series or next summer's Ashes, the brains trust have been left with plenty to think about. Clearly, the reliance on Steve Smith and David Warner is no less with them available than when they were not.
Again Joe Burns failed against a first-morning new ball, out for a duck and fortunate to get that many. Australia continues to wait not for one but two openers. Matthew Wade was responsible for the hosts' only patch of fluent scoring, unleashing some fine cover-drives, but Wade is an attacking middle-order player and performed as such, holing out after an entertaining cameo.
The collapse was on. Like someone trying to make it home after a Boxing Day lunch, Smith fell around the corner. He has made fewer runs in the series than Josh Hazlewood.
Loading
The really interesting partnership, and the centre of Australia's investment for the future, was that of Marnus Labuschagne and Travis Head. They were together from the 15th over until the 42nd, the meat of the day. At no point did they score freely, subject to unrelenting danger from Bumrah and Ashwin, with good support from first-gamer Mohammed Siraj.
Labuschagne is the one Australia is watching. Two years ago he was a coach's pet project, a modestly performed state player given a chance more for his attitude than his record. He came home last summer as the surprise package of the Ashes, and two months later he had turned himself into one of world cricket's heavyweights. Had Australia discovered a new champion or benefited from a form spike?
The indicators, on Boxing Day, pointed both ways. International bowlers have been able to plot their way around Labuschagne's strengths, and India's are among the best at maintaining disciplined plans. As in Adelaide, he was becalmed for long periods. Yet to his credit he batted maturely for the best part of four hours. He rectified the glitchy loose hook shot, and his defence was increasingly watertight the longer he batted. In some ways these innings might be the making of Labuschagne: not the glorious parade of 2019-20, but the workmanlike output of a maturing individual tested by world-class opponents.
Loading
Head, meanwhile, might or might not have been batting for his place. Was he or wasn't he? When is he not? As with much in his short career, the South Australian produced a bit of both, a grim struggle followed by a promising rhythm followed by a loose get-out shot. He might play for 10 years for Australia with the jury still out. There have been plenty like that.
Ultimately, like the MCG itself, Australia's innings was a glass one-third full. The arguments were put forward but none was taken to its conclusion. This will unsettle a unit striving for perfection, but it's no bad thing for Test cricket. Another successful day or two, and India can give the cricket public the contest it is craving.
Malcolm Knox is a journalist, author and columnist for The Sydney Morning Herald.