The video quickly circulated on messaging apps, social media and in the local news media, and prompted two hashtags on Twitter, #StopTheKillingPH and #PulisAngTerorista, or "the police are terrorists."
The shootings are the latest in a series of killings involving the Philippines National Police, which is currently the focus of an international investigation. The International Criminal Court said last week it believed that there was evidence to support claims that authorities had committed crimes against humanity as part of President Rodrigo Duterte's bloody war on drugs. Official figures report almost 6000 killed in police operations since he came to power in June 2016 and as of the end of September.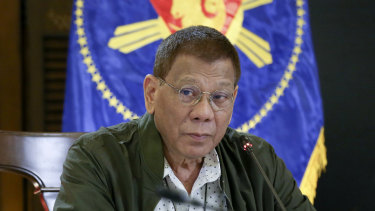 Human rights watchdogs estimate the deaths could reach 30,000 – including people killed by masked vigilantes. Human Rights Watch said drug war deaths spiked by more than 50 per cent from April to July during the pandemic lockdown.
Edre Olalia, who heads the National Union of Peoples' Lawyers, which tracks the killings, blamed Duterte's government for the gruesome incident.
"When those who swear to execute the laws, goad and inspire law enforcers with guarantees of impunity and even a pat on the back, you create monsters in our midst ready to go berserk anytime, anywhere for a variety of reasons and circumstances," he said.
Loading
Duterte has often encouraged police to kill criminals and has promised to protect them as long as he remains in office.
"Be alert and be wise," he told officers this month. "You know, just a little mistake on their part, shoot them," he said, referring to possible suspects.
Activists said the shootings were the result of the President's violent rhetoric and his vocal support for the police and promises of protection.
"Many members of the Philippine police are simply out of control," said Phil Robertson, deputy Asia director of Human Rights Watch.
Loading
"As with many incidents of recent police violence, the killing by Nuezca of Sonya Gregorio and her son Frank was brazen and underscores the impunity that prevails in the Philippines," he said. "It took place in the context of an enabling environment for police violence that President Duterte himself has encouraged."
Alyssa Calosing, who reportedly recorded the video, told local radio broadcaster DZMM that others had seen Nuezca hit Gregorio beforehand and that people there were crying and appealing for him to stop.
Calosing said that after shooting the two, Nuezca collected his daughter and "they walked off like it was nothing. . . . I felt I was numb, like my soul left my body. Then when I felt something move, I began jumping in anger and crying."
Nuezca could not be immediately reached for comment, but a local police chief in Tarlac, Noriel Ramboao, told DZMM he had admitted killing the Gregorios. "He said that when he saw the argument between his daughter and the old woman, his view darkened and he couldn't control himself," Ramboao said.
Philippine media reported that Nuezca previously faced two charges of homicide that were dismissed on grounds of a lack of evidence.
Presidential spokesman Harry Roque condemned the killings, which he said were "not service-related." Nuezca had been off duty and visiting his home in Tarlac, away from his assignment in Metro Manila.
"That policeman will be punished – no ifs, no buts," Roque said. "The president will not protect him."
Nuezca was charged with murder. He later surrendered to police.
Interior Secretary Eduardo Año condemned the killings and stressed that they were isolated incidents that should not reflect on the Philippine National Police.
The New York Times, The Washington Post